Happy Monday! It's time for the Waffle Flower August 2019 New Release Blog Hop! Do you like organizing as much as crafting itself? There are times I enjoy organizing even more than crafting. It's weird! But to see everything so nice and organized in rainbow color is incredibly satisfying.
Well, if you're just like me, you should definitely check out the new products from Waffle Flower this month, specifically the Color Combos! I had a blast with this month's products getting myself nice and organized so that I feel inspired and ready to create. I have accumulated quite a lot of inks since I started but have barely dedicated the time to swatch things out, so I was really excited to set aside some time to do so for this month's release!
For these tags, I used the Color Combos Tag Die, Color Combos Die, and Color Combo Stamp Set. And since I get super OCD when I start organizing things, I wanted my swatch cards to be perfect so I also used my DYMO labeler to print out all the ink and brand names. Add the cards to a binder ring to keep them together.
Swatching is pretty important for all my coloring mediums, and one that I have not done yet was for my Arteza brush pens. I had purchased the 96 pack and had not swatched them yet so I decided to get started! Again I used the Color Combos Tag Die, this time out of watercolor paper. I used the Color Swatch Stamp to create the layout of the tag with 3 columns and the bullet points beneath. From there, I begun swatching one brush pen per column.
I still have a lot to go, but I'm glad I have an easy system in place now! These will be very useful when I look for what colors I need the next time I grab my Arteza brush pens.
Although a large part of this month's release is about organizing, we have a few new fun stamps and dies as well! Liz Mytinger brings us a cute little 2×3 stamp set called Make Waves. This mermaid mouse is just too adorable!
I've made so many beach scene cards this season that I decided to do something different. I used the Watercolor Swatches stamp set to create overlapping rectangular boxes that were heat embossed in white. I watercolored each box to create an abstract scene. Then I added my colored images on top of it along with a sentiment in towards the bottom.
We also have a fun new panel die called Big Dots Die that pairs with the Big Dot Sentiment Stamp Set that features several useful sentiments in clean large sized font. I created a rainbow of ink blended colors behind the the big dots panel to have it show through each circle.
My sentiment was heat embossed in silver. I added the panel with foam tape and then used the same inks that I blended with to add some light splatter for a little extra fun!
Shop the Release
The Waffle Flower August 2019 Release is now available in store! Shop now and receive a FREE Color Swatches for Inkpads Stamp Set with all orders $50 and over, while supplies last. No code required; Limited 1 per customer; Promotion valid through midnight 8/8/19.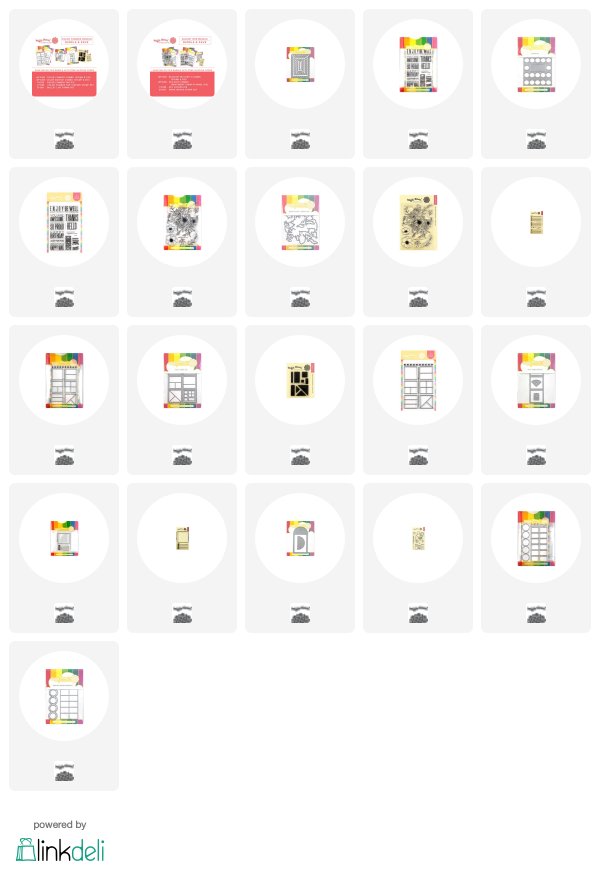 Blog Hop
This post is part of the Waffle Flower July 2019 Release Blog Hop! The team and invited guests have teamed up together to bring you lots of inspiration with this month's release products. So hop along, share some love, and most importantly have fun! If you've been hopping along, you would have arrived here from Rebecca's blog. Your next stop is Alix's blog!
Giveaway
To celebrate the blog hop, Waffle Flower is giving away $25 gift certificates to THREE lucky winners. You can leave a comment on my blog and along the hop by 11:59pm ET on 8/8/2019 for your chances to win. Winners will be chosen at random from the comments left on any of the posts on this blog hop and will be announced on the Waffle Flower blog on 8/10/2019.